The "GPS" that guides you to clarity, courage and confidence!
The wHolyShift is a transformational process of alignment and In Power Meant for revealing the most power~ full version of yourSelf,  resulting in clarity courage and confidence to create the change that is most important to you.
Change means doing things differently. And for it to be sustainable, you must seek to discover and then reveal the truth of who you really are.  The wHolyShift is an 8-step process that aligns and empowers you to create lasting change. This way of Being and Doing positively impacts the way you live, love and lead.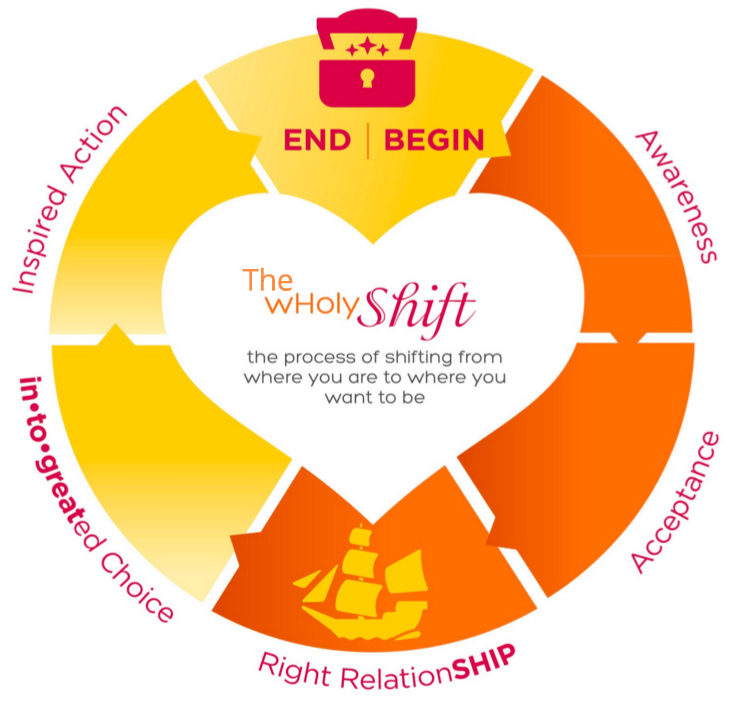 The wHolyShift Is for You If…

You want the confidence and tools to handle the ups, downs, twists and turns of life and work
You want to Thrive in all aspects of your Life, Love & Leadership
You feel stuck and haven't made the kind of progress you want toward goals that feels important
You're at a crossroads, want clarity and need a decision making process that feels aligned with what's most important to you. 
Implement The wHolyShift in your life & you will:
Learn strategies, tools and a powerful process to make better decisions in the face of uncertainty

Acquire tips and tools to overcome perfectionism & eliminate overwhelm

Receive unconditional support and accountability to ensure the changes that you want in your life can happen

Take inspired action for moving forward during times of uncertainty
Embrace The wHolyShift and you will:

Become a leader in your own life
Improve all of your relationships
Increase your Mindfulness, Presence and Appreciation
Activate a personal GPS for navigating with more confidence and courage
I can imagine that, like me, when you look at your personal and professional life, there are times when you have felt uncertain about which direction to go. Times when you've felt confused about which decision is best? Overwhelmed by circumstances and situations?
I am not a stranger to those feelings of uncertainty. Several years ago, my daughter was diagnosed with anorexia. Anorexia has the highest fatality rate of any mental illness. So many feelings were competing for my attention—blame, shame, guilt, anger, and of course, paralyzing fear. Nevertheless, I had to find a way to wholly navigate this uncharted territory because my daughter's life depended on the decisions I had to make.
I needed a super GPS—an inner compass to guide the way. I was reminded that I had to put the oxygen mask on myself first. It took a lot of courage to do that. The doubt surfaced–was I being selfish? Shouldn't a good mother completely sacrifice herself for her daughter? The stakes were high.
I chose life, wholehearted compassion, love and what I know about the truth of leadership. With the energy and confidence that resulted, I began cultivating and developing a process for personal development with the best tools and resources from all my years of leadership coaching and spiritual seeking.
My daughter ultimately took charge of her own recovery and is currently thriving. The harvesting of the gems from that experience, as well as the synthesis of a power-full toolkit, is what ultimately became The wHolyShift.
"Like all maps, we should not mistake it with the territory itself. It simply offers signposts to orient toward as we accompany ourselves and others on a transformational journey. It is not a linear process, but more of a hologram that we move through with fluidity and flexibility."
~Richard Strozzi Heckler
#FreedomPhrase
Allen
2019-05-28T01:14:08+00:00
Creating Impact
Allen
2018-03-05T20:01:04+00:00
Guided Meditations
Allen
2018-03-07T02:46:02+00:00